Air Conditioning Services
Getzschman has been the top choice for air conditioning services in Omaha and the surrounding area since 1960.
Commercial HVAC Repair in Omaha
Getting the most out of your heating system is our top priority at Getzschman Heating. There aren't many things that can bring a halt to your business like a broken air conditioner in the summer or no heat in the winter. To ensure your commercial HVAC system runs efficiently and avoids unexpected breakdowns, Getzschman Heating arranges mutually beneficial agreements.
The Importance of Commercial HVAC Repair
Installing a new HVAC system for your building in Omaha or surrounding area will be a major investment. This new system should, however, be able to last for 15 to 20 years or more, and ensure everyone in the building is comfortable. An unreliable system, one that's not properly installed, and/or one that's not properly maintained on an annual basis (or on a quarterly basis in cases of heavy use), puts that large investment at risk.
For businesses in and around Omaha, Getzchman recommends regular commercial HVAC inspections and repairs. Getzchman offers expert, reliable, and extensive services for all major brands and styles of commercial HVAC equipment, including ductless heating and cooling systems and rooftop units. If you need commercial HVAC repair in Omaha, call or schedule online.
Getzschman Heating's commercial HVAC repair specialists are ready to assist you.
What to Expect During Commercial HVAC Repair Service
Throughout Omaha, NE and the surrounding area, HVAC systems are frequently used. Your building's HVAC systems provide critical heating and cooling to every room every day, keeping you and your tenants comfortable. Regardless of the weather, a reliable HVAC system is necessary for cooling and ventilating your space.
Despite what you may not realize, your HVAC system operates continuously most days of the year, so wear and tear will occur fairly quickly.
Without proper maintenance on an annual (or sometimes quarterly) basis, even highly rated, top-of-the-line HVAC systems will age and experience problems sooner than expected.
Getzchman technicians inspect all major components of your unit during commercial HVAC repair visits in Omaha making sure all equipment is operating properly. Services include but are not limited to:
Lubricating moving parts (such as your blower fan motor)
Ensuring all filters, condensate drains and burners are clean of debris and dust
Checking the electrical components
Testing the condenser and compressor
Running a full range of diagnostics (to ensure your system is ready for any season)
Customized Commercial HVAC Agreements
It makes sense to keep your HVAC system maintained with Getzschman Heating in order to maximize its lifespan and efficiency. Depending on your business needs, we can create a customized agreement.
As part of these agreements, we can provide:
Regular HVAC Maintenance
Heating Repair Discounts
Cooling Repair Discounts
24/7/365 Emergency Service
Priority Service
There are advantages and disadvantages to each of these options. You may not be able to use some of these options in your particular home environment. Consider the space you have available for a new water heater, the volume of hot water you typically utilize, and the cost of not only the unit itself, but the cost of operating it.
We have a wealth of experience repairing, choosing, and installing water heaters in Omaha. Our team will be happy to assist you in choosing a new water heater or repairing your existing one within your budget.
Your Commercial HVAC Repair Experts in Omaha
Every three months, commercial HVAC systems in Omaha and surrounding areas should be inspected and maintained to reduce the risk of breakdowns and repairs. By maintaining the commercial HVAC system regularly, the chances of it wearing out or failing for routine reasons are significantly reduced.
It is important to know that there is a professional ready to help you if a problem with your commercial HVAC system does occur (i.e., extreme weather or component malfunction). Our commercial repair team offers comprehensive services in and around Omaha and can resolve any major problem immediately – even at 3 AM.
For commercial HVAC repair in and around Omaha, call Getzchman if your system is due for routine maintenance or if you are concerned about how it has been operating lately. In addition to providing financing options, we also offer commercial HVAC replacement services.
Getzschman Heating is available for any service call or repair. Whether you need residential or commercial HVAC repair, we're available 24/7/365 to restore comfort and peace of mind to business owners and homeowners in Omaha.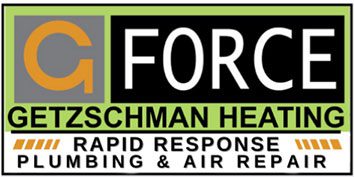 The Commercial HVAC Repair Services Experts at Getzschman Heating are ready to help! Call or easily schedule online, today.
Two Year Test Drive
G Force Exclusive
Have us install a new G Force system and you can take a test drive for two years with a 100% satisfaction guarantee. If you are not happy with your new HVAC system, we will make it right or give you your money back.
Having trouble keeping cool?
Call 402-721-6301 today for more information, or schedule your service appointment online!
100% customer satisfaction guarantee (and we back it in writing)
In business for over 50 years
Flexible financing options to fit your budget
We service all makes of HVAC equipment