Air Conditioning Services
Getzschman has been the top choice for air conditioning services in Omaha and the surrounding area since 1960.
Services for Air Conditioners in Omaha, NE
If you live in Omaha, you need a cooling system that keeps you comfortable. It ought to be dependable, large enough to meet the requirements of your house, and well-maintained to continue functioning each summer as it did when you bought it.
Call Getzschman Heating for your cooling needs. Our comprehensive selection of air conditioning replacement, upkeep, and repair services will keep you and your family comfortable throughout the summer.
Our team of AC installers has the equipment and knowledge to install air conditioning units of all sizes for homes and businesses alike. You can rely on our team to provide high-quality air conditioning installation in Omaha right now, whether you want a window unit, a ductless system, or a central AC unit.
Air Conditioning Replacement
Replacing an air conditioner is a significant undertaking that must be carried out correctly to guarantee consistent summer cooling. The first step in this process is to determine whether the chosen system will meet your home's cooling requirements by measuring the cooling required.
Next, we will determine your home's most suitable air conditioner type. Various options are available, depending on whether your home already has ductwork or has room to install it. Additionally, we offer dual-fuel systems and ductless, high-velocity replacement systems for older homes that require dedicated heating from a heat pump system.
We also provide complete air conditioning replacement services in Omaha if you replace an existing unit.
AC Maintenance and Repair
Your air conditioner is a significant investment, so regular maintenance is essential to keeping it in good working order. If your air conditioner is serviced regularly, you can save money on cooling your entire house and keep it running like new every summer.
During upkeep visits, we will investigate your whole system, replace any worn-out parts, fix any connection issues, replace filters, check condensation drains, and clean the coils. Our maintenance team aims to ensure that your system is in good working condition before activating it for the first time each summer.
We also offer emergency service and repair for all major brands and types of air conditioners if something stops working properly in the interim.
One of the ways your family stays comfortable during the summer is through the air conditioning system in your Omaha home. It is essential that it be installed correctly and maintained properly. Getzschman is the company to call for all your air conditioning needs. Contact us today!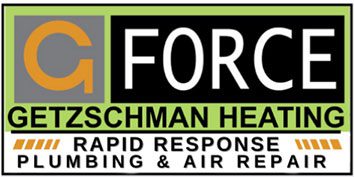 The Air Conditioning Services in Omaha Experts at Getzschman Heating are ready to help! Call or easily schedule online, today.
Two Year Test Drive
G Force Exclusive
Have us install a new G Force system and you can take a test drive for two years with a 100% satisfaction guarantee. If you are not happy with your new HVAC system, we will make it right or give you your money back.
Having trouble keeping cool?
Call 402-721-6301 today for more information, or schedule your service appointment online!
100% customer satisfaction guarantee (and we back it in writing)
In business for over 50 years
Flexible financing options to fit your budget
We service all makes of HVAC equipment