Air Conditioning Services
Getzschman has been the top choice for air conditioning services in Omaha and the surrounding area since 1960.
Emergency Heating & Air Conditioning Repair in Omaha
Having your air conditioner break down can be very stressful, especially in Nebraska, where the summers are much hotter than in other parts of the country. But what happens if something breaks down after hours or on the weekend? What should you do if you require immediate assistance on a humid, hot July day? You don't panic. That much is certain. Simply contact Getzschman Heating. We offer complete emergency AC repair because we believe you deserve high-quality care at any time.
You can contact the team at Getzchman any time, regardless of where you live in Omaha. When you need emergency air conditioner repairs, our specialists are trained and certified, and ready when needed. We are always available, happy to assist and provide affordable emergency AC repair services.
Do you require immediate AC repair in Omaha? Give Getzchman a call at 402-741-6141 or contact us online right away!
How We Handle Requests for 24-Hour Emergency
Living in our area makes having an air conditioner a necessity – it is needed to beat the heat. What's more, when the temperature is high, and your cooling system isn't cutting it, you want an answer now, not hours or days from now. Getzchman takes care of you, offering quick service arrangements in an opportune and proficient way.
We immediately respond when we receive an emergency service call. Our team in the Omaha region is prepared to deal with crisis cooling system circumstances. Contact Getzchman at 402-741-6141 or get in touch with us for around-the-clock AC repairs in Omaha and around the area.
Signs You Need an Emergency AC Repair
We can assist you with the following emergency repairs:
The unit is making strange noises that are loud or consistent. Loud sounds frequently mean faulty parts, which can prompt big inconveniences if they aren't addressed.
The humidity in your home is much higher than usual. As part of their cooling process, air conditioning systems dehumidify. There is a serious issue if the air in your home is damp.
The lights are flickering, or the breaker is tripping because of an electrical problem. Electrical issues can be alarming. If it is safe, immediately shut down the system and contact us.
The system cannot withstand the summer heat. It costs a lot to have your home cooled by an air conditioner. It won't be long before the summer begins to seep in if it doesn't do its job.
The AC is leaking refrigerant or water. Home moisture damage can be extensive from leaks, leading to even more serious issues. Our team knows how to deal with the issues both quickly and professionally.
Call Getzchman at 402-741-6141 for emergency air conditioner repair if you notice any of the above.
You would never have to deal with an AC breakdown in a perfect world. Regular AC maintenance in Omaha helps you avoid paying for emergency repairs. Your system will be inspected, cleaned, and calibrated to keep it running at its best when you need it the most.
Seasonal tune-ups will significantly reduce the most common breakdown causes, saving you money on repairs and hours of discomfort.
Emergency Air Conditioner Repair in Omaha
We've provided home and business owners in Nebraska with 24-hour AC repair for decades. We never want you to struggle or live uncomfortably in your home. You can depend on our team to provide a friendly and cost-effective solution whenever you have a serious electrical emergency, a leaky air conditioner compressor, or a question about your cooling system.
Contact Getzchman at 402-741-6141 or contact us for around-the-clock air conditioning repair in Omaha and the encompassing regions.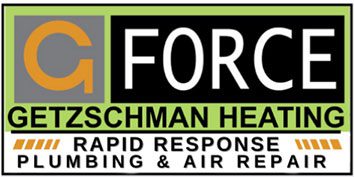 The Emergency Air Conditioning Repair Experts at Getzschman Heating are ready to help! Call or easily schedule online, today.
Two Year Test Drive
G Force Exclusive
Have us install a new G Force system and you can take a test drive for two years with a 100% satisfaction guarantee. If you are not happy with your new HVAC system, we will make it right or give you your money back.
Having trouble keeping cool?
Call 402-721-6301 today for more information, or schedule your service appointment online!
100% customer satisfaction guarantee (and we back it in writing)
In business for over 50 years
Flexible financing options to fit your budget
We service all makes of HVAC equipment