Air Purification Services
Getzschman has been the top choice for air purification services in Omaha and the surrounding area since 1960.
Your home's ductwork distributes air between your air handler and each of your rooms' vents. You won't be able to get the efficiency you're looking for if something happens to your ductwork and it needs to be repaired or replaced. If this occurs, you should call. For every major HVAC system, we offer duct repair and replacement services that will make it work like new again.
Identifying Duct Problems
To determine whether your ducts need repair, you should recognize any signs of trouble. Identifying these issues sooner rather than later will have a less significant impact on your home's HVAC system, and will cost you less money to repair.
It is most common for these symptoms to initially appear to be issues with your air conditioning or heating system. The temperature in your home may suddenly drop. If your bills are increasing steadily over time and your system is running almost constantly, you may notice uneven heating or cooling between rooms.
In the event that a technician doesn't find a problem with your existing HVAC components, then the issue is likely a duct problem, and you may need to have duct repair or replacement performed in the Omaha area.
You can greatly improve the efficiency of your entire system and reduce the cost of operating it on a daily basis by repairing the ductwork even if it is only a small problem. We provide duct testing services to find problems and prevent them from recurring.
How Do I Know If I Need to Replace My Ducts?
There may be situations when replacement is more cost-effective than duct repair in the Omaha area. In particular, this will happen if your existing ductwork is too small for a new HVAC system, worn out, rusted through, or so old that it does not meet modern ventilation requirements. Even if you do a lot of work on it, it may still be inefficient heating and cooling because whoever installed it initially did not size it correctly to your home.
Getzschman Heating is an experienced, well-trusted provider of duct related services in the areas surrounding Omaha. If you need duct repair or replacement services, call us. Any major duct problems you are experiencing can be inspected and repaired or duct replacement can be recommended, which will increase the efficiency and reduce the cost of your heating and cooling system.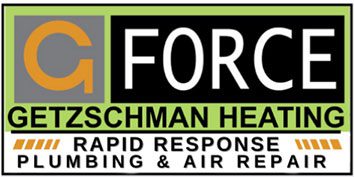 Two Year Test Drive
G Force Exclusive
Have us install a new G Force system and you can take a test drive for two years with a 100% satisfaction guarantee. If you are not happy with your new HVAC system, we will make it right or give you your money back.
100% customer satisfaction guarantee (and we back it in writing)
In business for over 50 years
Flexible financing options to fit your budget
We service all makes of HVAC equipment