Air Conditioning Services
Getzschman has been the top choice for air conditioning services in Omaha and the surrounding area since 1960.
Commercial HVAC Replacement in Omaha
Business owners know the importance of a well-functioning heating and cooling system. For that reason, these systems are built with the special needs of a commercial setting in mind, so they need to be installed or replaced by an Omaha commercial HVAC professional. At Getzchman, our HVAC replacement experts have the training and experience to handle your job, so you don't have to worry.
To replace rooftop HVAC units for businesses in Omaha, we first prepare the building. As soon as your new rooftop unit is installed, we will integrate it into your building's existing HVAC system.
Upgrades will be performed if necessary. Among the possible upgrades are:
New building controls
Changes to your ductwork
Possible upgrades to your ventilation system to use less energy and ensure high air quality throughout the building
We have years of experience installing, inspecting, and repairing commercial HVAC systems throughout Omaha and the surrounding areas. You can count on our commercial HVAC replacement experts to help you select and install the right model for your business.
Selecting a New Commercial HVAC System: We Install Any Brand
Before beginning a commercial HVAC repair or replacement project in Omaha, it is critical to select a system that meets your building's needs. At Getzschman Heating, we help by measuring your building's heated square footage. Then we will develop a plan based on the unique heating, cooling, and ventilation needs of that space.
When replacing a commercial HVAC system in Omaha, you can choose from several options. However, when possible, a rooftop unit is most efficient because it is compact and out of the way.
Rooftop units are available in a wide range of sizes between 1.5 tons and 150 tons to fit your building, so you shouldn't have any trouble finding the right size, especially if you work with Getzschman Heating, who specialize in commercial HVAC and rooftop units.
No matter the HVAC brand, our expert technicians are capable of correctly installing any unit to the manufacturer's specifications and up to code. We can present a full array of HVAC options to fit your business's need. Our technicians' training goes well above the state's requirements, so you can have peace of mind knowing expert technicians will properly install your system.
Commercial HVAC Replacement in and Greater Omaha
Physically moving and replacing your existing commercial HVAC system is the next step. In order to accomplish this, Getzchman's commercial HVAC experts will remove any existing components from the site. A major HVAC system installation can be a big project, which is why you should choose a trustworthy company.
From start to finish, the job can typically take anywhere between 1 and 3 days. We can give you a clear idea of exactly what will be involved in a replacement during your initial consultation. You can also call our offices and discuss the replacement process with one of our professional HVAC technicians.
Whatever your needs know that Getzschman Heating offers reliable commercial HVAC replacement services in and other Omaha, NE areas. Call us today to learn more about what we can do for your building to keep your customers and employees comfortable and your energy bill down.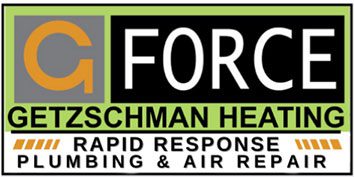 The Commercial HVAC Replacement Services Experts at Getzschman Heating are ready to help! Call or easily schedule online, today.
Two Year Test Drive
G Force Exclusive
Have us install a new G Force system and you can take a test drive for two years with a 100% satisfaction guarantee. If you are not happy with your new HVAC system, we will make it right or give you your money back.
Having trouble keeping cool?
Call 402-721-6301 today for more information, or schedule your service appointment online!
100% customer satisfaction guarantee (and we back it in writing)
In business for over 50 years
Flexible financing options to fit your budget
We service all makes of HVAC equipment