Air Conditioning Services
Getzschman has been the top choice for air conditioning services in Omaha and the surrounding area since 1960.
Thermostat Replacement & Installations in Omaha
HVAC systems in Omaha rely heavily on thermostats to operate effectively. You will either be overheating or undercooling your home with an inaccurate or poorly calibrated thermostat. Almost never will your home be comfortable. You should therefore maintain your thermostat properly and make sure it is installed correctly.
Call Getzschman Heating today if you need a new thermostat, or if you have questions about your current thermostat. Count on our service professionals in Omaha to maintain a steady and ample supply of heating and cooling in your home.
Enjoy the Benefits of a New Thermostat
Now is the time to stop searching and give Getzchman a call if you are in need of new thermostats in Omaha. It's best to discuss with us what you think you would like for your home, in advance, so we can help you narrow down your choices.
First and foremost, regardless of the features you are interested in, make sure your thermostat is accurate. In older mechanical thermostats, the temperature setting is only accurate within a few degrees. A newer air handler and HVAC system, however, can make digital thermostats accurate within 0.5 degrees. Wireless and battery-operated thermostats are also available, enabling you to move the thermostat from room to room in your house.
Repair and maintenance of your air conditioning system in Omaha will keep it running smoothly for longer, minimize the need for unplanned repairs, and extend the system's life. A programmable thermostat saves you money almost immediately. Additionally, when the temperature falls below freezing or rises over 90 degrees, you will have peace of mind knowing your HVAC system will still work.
Existing Thermostat Maintenance
Omaha homeowners should get their existing thermostats serviced regularly. Maintenance can be performed during routine heating or cooling visits, or as a standalone visit. Every year, your home's thermostats should be serviced to ensure their accuracy.
Keeping your thermostats accurate isn't just a matter of comfort; it's also a matter of saving energy. As long as the problem is small and can be resolved in one visit, thermostat repairs are available for malfunctioning thermostats. Occasionally, they can be calibrated. Sometimes it's best to replace an old thermostat with a newer model that's more energy-efficient and suits your household's requirements.
Getzchman's HVAC experts can check for problems if your thermostats are significantly inaccurate, malfunctioning or do not work at all.
You can depend on Getzschman Heating for all your thermostat needs in Omaha. We offer professional installation, maintenance, and repair of thermostats in your home, so you don't have to worry about breaking the bank.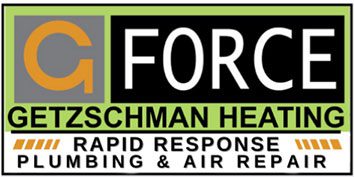 The Thermostats Experts at Getzschman Heating are ready to help! Call or easily schedule online, today.
Two Year Test Drive
G Force Exclusive
Have us install a new G Force system and you can take a test drive for two years with a 100% satisfaction guarantee. If you are not happy with your new HVAC system, we will make it right or give you your money back.
Having trouble keeping cool?
Call 402-721-6301 today for more information, or schedule your service appointment online!
100% customer satisfaction guarantee (and we back it in writing)
In business for over 50 years
Flexible financing options to fit your budget
We service all makes of HVAC equipment