Air Conditioning Services
Getzschman has been the top choice for air conditioning services in Omaha and the surrounding area since 1960.
AC Maintenance Services in Omaha
It is not uncommon for homeowners and business owners who fail to schedule regular air conditioner maintenance to discover the hard way that unmaintained cooling systems may malfunction suddenly in the middle of the summer, break down long before they should be replaced, or cost a fortune in abnormally high energy bills.
How can you save money on air conditioning services this year? Getzschman Heating offers routine preventive maintenance. We are a residential and commercial HVAC company based in Omaha.
Contact us today at 402-389-8818 to schedule air conditioning maintenance.
Benefits of Scheduling Regular AC Maintenance
Regular HVAC maintenance is similar to getting your car tuned up or its oil changed. In the absence of preventive maintenance, the equipment you use every day can deteriorate or break.
You can achieve the following benefits by scheduling regular HVAC maintenance visits. Both your comfort and your wallet will thank you!
Uphold AC maintenance warranty: Many air conditioner manufacturers offer service warranties. Keeping these warranties intact may require regular maintenance!
Improved energy efficiency: When your system is maintained properly, you will reduce energy waste and save money on your monthly energy bills.
Preserve the operational life span: The risk of damage or premature replacement of cooling systems is much higher when they are not maintained regularly.
Prevent repairs: The likelihood of having to call an air conditioner repair service frequently or repeatedly decreases with regular maintenance. In addition to saving you money, this can also prevent you from having to do more complicated or extensive repairs.
Not only will you notice savings and less maintenance and repair surprises when your air conditioner works properly, but you will also be confident that the system is cooling and dehumidifying your home effectively to keep everyone happy.
Do you need air conditioning maintenance? Schedule it today when you call us at 402-389-8818.
Omaha Air Conditioning Maintenance Services
When you're trying to cool your home, nothing is worse than an air conditioner that doesn't work! Our HVAC experts can come out to give your air conditioning system a top-notch inspection and explain exactly what's going on, as well as suggest priority maintenance options.
Maintenance visits are essential for the following tasks:
Cleaning the AC condenser and evaporator coils
Checking for refrigerant leaks or frozen coils
Cleaning the condenser unit and fan belt
Inspecting the electrical system
Lubricating moving parts
Changing dirty air filters
You can feel confident scheduling maintenance services with Getzschman Heating once you've learned more about our HVAC team and company.
Visit our recent reviews or view our financing options for more information. Priority maintenance services from our company mean quality HVAC maintenance you can rely on.
Schedule Air Conditioning Maintenance Today
Are you overdue for air conditioner maintenance? You can significantly improve your system's long-term performance by scheduling a routine tune-up once a year. Getzschman Heating serves Omaha and its surrounding communities. Schedule air conditioner maintenance with us today. Reach us at 402-389-8818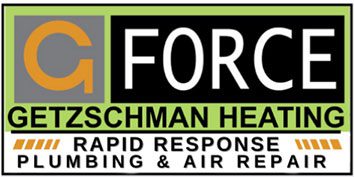 The AC Maintenance in Omaha Experts at Getzschman Heating are ready to help! Call or easily schedule online, today.
Two Year Test Drive
G Force Exclusive
Have us install a new G Force system and you can take a test drive for two years with a 100% satisfaction guarantee. If you are not happy with your new HVAC system, we will make it right or give you your money back.
Having trouble keeping cool?
Call 402-721-6301 today for more information, or schedule your service appointment online!
100% customer satisfaction guarantee (and we back it in writing)
In business for over 50 years
Flexible financing options to fit your budget
We service all makes of HVAC equipment